Ca'Pietra @ The Stone Gallery
Durable, unique and sustainable, our natural stone and porcelain tiles are sourced from all over the world
Our Opening Hours
monday – Friday  –   (7am trade) 8am – 5pm
Saturday  –  9am – 5pm
Sunday  –  closed
Specialists in Ca'Pietra and Natural Stone Tiles
At Ceramic Tile Warehouse we have a magnificent showroom we call The Stone Gallery, displaying the timeless elegance of natural stone and modern trends. We have recently updated our tile collection with a large selection of amazing Porcelain, Stone, Limestone, Encaustic and Mosaic tiles from Ca'Pietra.
We have a dedicated, enthusiastic and highly experienced sales team ready to advise you on all aspects of interior and exterior tiles…from explaining the properties of natural stone to a certain finish on limestone…from the way light reflects on marble to the many different types of mosaic. We're happy to help you choose what tile to buy, and explain how each tile can offer any home a sophisticated and stylish feel.
At The Stone Gallery we have a wealth of Natural Stone wall tiles and floor tiles to choose from for both residential and commercial properties. From travertine, granite, mosaic and marble tiles, to slate, sandstone and onyx tiles, we're here to help you choose the best for your home. With the development of inkjet printing on tiles, we also have a new collection of porcelain imitation stone tiles on display. 
And if Ca'Pietra doesn't take your fancy, we still have a wealth of other brands for you to compare, including Grespania and a special collection of 10mm interior and 20mm exterior porcelain tiles from DecoVita. All the benefits of a natural stone tile but without the usual maintenance associated with such tiles.
TAKE A CLOSER LOOK AT OUR SPECIALLY CHOSEN COLLECTION OF STONE, LIMESTONE, MARBLE, PORCELAIN, ENCAUSTIC AND MOSAIC TILES BELOW
Ca'Pietra tiles offer inspired design and a finish that will transform any wall, floor, or space into a welcoming home bursting with that elusive wow factor. Our tile showroom houses an extensive display, from statement mosaic tiles to classic stone tiles, all at a reasonable price. To view and compare all the different tiles, click the 'brochures' link at the top of this page.
If you want tiles with the organic beauty of stone tiles but none of the maintenance, then our new porcelain ranges offers the best of both worlds. While natural stone evolves over time, ceramic and porcelain tiles maintain their pristine look and are easier to look after and care for while still offering the natural beauty of Stone. Tiles shown S53094, S53095, S53096 and S53097.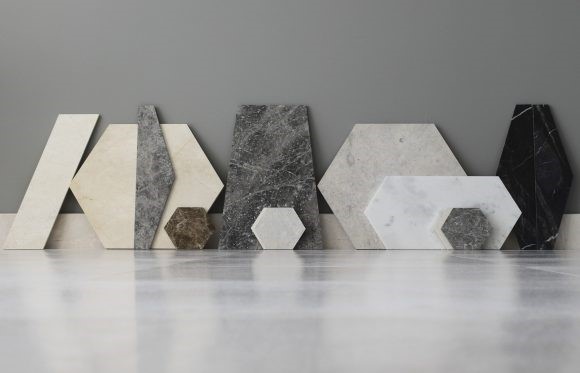 At The Stone Gallery, the timeless elegance of stone and marble wall tiles, floor tiles and kitchen tiles form a staple in our catalogue. And don't just think tiles for your floor only come in white, black or grey! Before you buy, why not come down and compare the displays (and the price) in our showroom?
Whether it's for interior or exterior use, Ca'Pietra floor tiles at The Stone Gallery are available in any style you please. We even stock 20mm thick porcelain tiles from Deco Vita in 1200X600 and 10mm co-ordinating internal tiles specially developed for applications so you can create a flowing inside and outside look. Tiles shown: G72033.
The key difference between Encaustic tiles and Ceramic tiles is that they maintain their pattern and colour even as the tile wears over time. Ca'Pietra traditional encaustic tiles are available in a wide variety of designs and colours. Pop into our showroom and take a look at the many different and exciting tiles we have on display.
When it comes to Ca'Pietra floor tiles, in our view, the Toulon is one of the most elegant and sophisticated tiles. It's original style is an elaborate design dominated by a chalky blue colour palette, but we offer them in many different and exciting colours. Pop in store today and have a look at our new ranges. Tiles shown: G72492.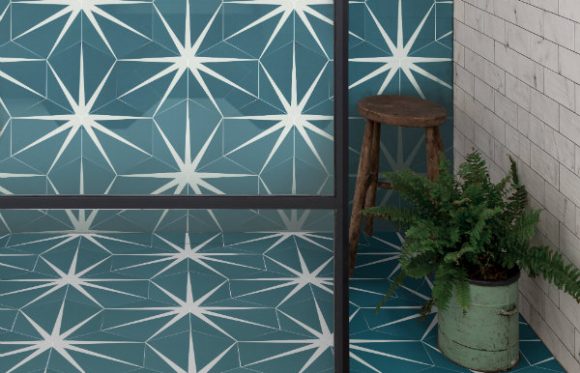 This tile collection from Ca'Pietra offers staple interior colours, suitable for any kitchen, bathroom or living space. The tiles are machine-made with specialist tools and need little maintenance. They are thinner than their cement sister, making them ideal for use as wall tiles (though they can be used as per floor tiles as well). Available in many colours. Tiles shown: R73387.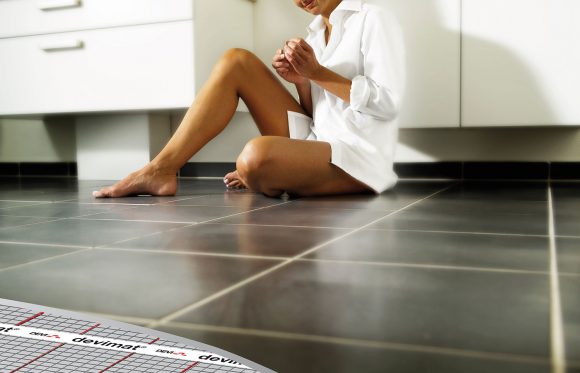 We've got a huge range of beautiful Natural Stone flooring tiles that can be used alongside our electric underfloor heating systems. Gone are the days where stone flooring was known for being chilly underfoot, and using the two products together can actually bring lots of other benefits, in terms of cost savings and keeping your home warm. From a few pennies a day you can keep your feet warm.