A kitchen is a place where meals are prepared and eaten; a place where friends and family socialise and enjoy each other's company; it therefore makes sense that the ceramic tiles in this multifunctional space reflect the personalities of those who spend so much of their time there.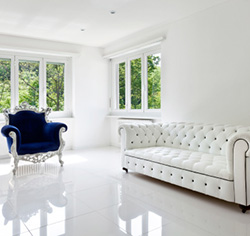 Neutral tiles have their place but, when ceramic tiles are available in such a plethora of vibrant colours, designs and patterns, why not take a walk on the wild side?
Here's our guide to using brightly coloured ceramic tiles to inject dazzle and your own unique character into your kitchen.
Use ceramic tiles for an eye-catching splashback or feature wall
Gorgeous, brilliantly-coloured ceramic tiles can be utilised to dramatic effect as a splashback behind a sink or hob/oven. A tiled splashback is both visually appealing – adding a creative stamp of colour and texture – as well as practical – protecting walls from kitchen stains and splashes.
Not only can they be a vivid colour, but you might also wish to select ceramic tiles with a luscious high gloss finish, or even experiment with a pearlised, metallic or sparkly glaze to emphasise your chosen hue even more.
Alternatively, intensely-hued ceramic tiles can be used to create a spectacular feature wall in an open plan kitchen-diner.
Vivid ceramic tiles to complement a modern kitchen
High gloss modern white kitchens are exceptionally popular. Due to the colour's neutral quality, white kitchens provide the perfect opportunity for an accent in the form of colourful ceramic tiles; it all depends on what colours you find appealing, but floor or wall tiles in pastel colours, such as mint, lavender, rose and lemon, look especially fresh and modern when paired with crisp white units.
Grey kitchens are also very much in-demand, and again, this neutral shade can take an array of colours, from pretty pastels to stronger shades of hot fuchsia, cobalt, lime or magenta ceramic tiles.
Exotic inspiration for colourful ceramic tiles
Take inspiration from far-flung destinations and select bold and colourful ceramic tiles that have a striking foreign influence. Whether you opt for the vivid hues and bold patterns of Moroccan or Moorish style, or more intricate designs which reflect an oriental theme, statement-making ceramic tiles are sure to ramp up the character and enhance the appeal of your kitchen scheme.
Geometric patterned ceramic tiles for a retro chic kitchen
Brightly coloured, heavily patterned ceramic tiles are seeing a major resurgence. Bold 1970's-style designs are on trend and gaining in popularity, with those who seek the kitsch retro look for their kitchen. '70's-inspired tiles combine abstract repetitions of geometric designs and stylised flowers, typically in mellow shades of orange, yellow and brown. If this look isn't for you, then deliciously glossy metro ceramic tiles are also suitably vintage in their allure.
Porcelain and ceramic tiles for every taste and budget
At Ceramic Tile Warehouse we are delighted to offer over one million stylish porcelain and ceramic tiles to trade clients as well as homeowners.
At our Camberley tile warehouse our floor and wall products are sourced from quality tile manufacturers from across Europe and the Americas – please visit us at Sampson Business Park, Bridge Road, Camberley, Surrey or call us on 01276 678 845