How many times as a tradesperson have you been asked about the maintenance of your installations? Both residential renovators and commercial premises undergoing a revamp are looking for low-maintenance, durable options, particularly in these times of austerity when there isn't the money to replace fittings after a couple of years. Tiles often fit this bill, but if you're asked specifically for low-maintenance options, you need to know what to recommend. Here's the low down on low maintenance tiles: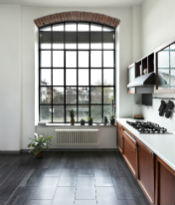 Ceramic tiles
For an extremely low maintenance option, ceramic tiles are a great choice, and make for excellent floor tiles. As ceramic tiles are made of natural particles which are shaped and fired in a kiln at very high temperatures, they are formed with a durability and resilience which is practically unmatched by other floor types. When they have been glazed, they also have a barrier which protects them from dirt, water, stains and chemicals, meaning they are ideal for the kitchen – not only on the floor, but also on the walls as a splash back. With some easy maintenance – such as gentle cleaning – your clients' floor tiles will maintain their style for years to come.
Porcelain tiles
Porcelain tiles are another excellent choice for floor tiles. They are often available in large format, meaning that less grout is needed, which in turn means less cleaning. Porcelain tiles are baked at very high temperatures until almost all of the water is removed, and this long drying time makes them very hard and durable, as well as easy to maintain. What's more, if a chip should appear in a porcelain tile, it should be less visible than in most other tiles, as the colour variants of porcelain tiles hide any imperfections.
Natural stone tiles
Natural stone tiles are a beautiful choice, but they can be higher maintenance than the likes of porcelain and ceramic tiles. However, with the right type of sealant, the likes of limestone tiles and marble can also be relatively easy to maintain. If your clients specifically want the beauty of natural stone tiles, a good recommendation is Travertine: it is very easy to clean, and if installed with an appropriate sealant in wet areas such as shower enclosures, it hardly shows water spots and soap scum, making it an excellent choice for your clients' bathrooms.
For plenty of easy maintenance choices, visit the Art of Living
To give your clients the best choice of tiles, and access to a range of easy maintenance tiles, visit the Ceramic Tile Warehouse in Camberley, Surrey. With over one million in-stock tiles, you're sure to find something to suit clients' taste and the level of maintenance required. What's more, the Art of Living also comprises the Stone Gallery, which can supply any natural stone tiles you may require and the sealants needed to keep them maintained, and Park Street Interiors can help with bespoke fitted bathrooms and kitchens – ask them about low maintenance units to fit with your low maintenance tiles. Make life easy for your clients: visit the Art of Living.