With such a wide range of tiles available, choosing a style for your bathroom can be a little overwhelming. However, this doesn't have to be the case; there's a new trend afoot in the world of bathroom design, which involves creating a customised look by mixing and matching both tile styles and tile types, including porcelain tiles, ceramic tiles and natural stone.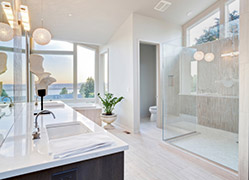 Mixing and matching sizes
Many experts will tell you, including Channel 4's Phil Spencer, that you should use large scale wall and floor tiles to make a room look bigger, as well as tiling from floor to ceiling, as opposed to just behind the bath or shower area. Large scale natural stone tiles, such as travertine, or ceramic tiles, are ideal for bathrooms and also help to prevent damp and mould growth. However, experts will also advise that you should consider mixing tiles, particularly if your renovation is budget-sensitive.
So why not think about using a range of sizes in your bathroom tile design? For example, a feature can be created using border tiles, or slightly smaller tiles or even mosaic tiles, which work better behind a shower cubicle than large tiles, can be used in this area alone. This will create a striking look, and higher-end tiles, including natural stone tiles, can be mixed successfully with slightly more economical tiles.
Colour combinations
No longer are our bathrooms strictly beige and white: vibrant and contrasting colours are becoming popular in bathroom design. Whilst sandstone and cream coloured tiles are a great way of creating a neutral canvas upon which you can add coloured accessories too, if you want to use colour on your walls, coloured ceramic tiles are a great way of including a flash of colour within the room.
Applying the rule of "everything in moderation" is key to using colour on bathroom walls; colour is a great way of drawing attention to one feature within the room, or else, using a striking combination of colours, such as black, white and red, to add pops of colour will work well within the room. Why not consider using a mosaic glass and ceramic tiles with small touches of colour to add an interesting finish to the room?
And for something really different…
If you fancy something totally different to the normal run-of-the-mill bathroom design, specialist tiles can really give your bathroom the wow factor. How about combining travertine or limestone tiles with hand-painted tiles for an upmarket, yet, rustic look? Or using glass tiles for splash backs and matching floor detailing? These different touches will really make a bathroom stand out from the crowd.
Fancy something different? Visit the Art of Living!
With over one million tiles in stock, if you do fancy something a little bit different, your first port of call should be the Ceramic Tile Warehouse. From large scale travertine and limestone tiles, suitable as both wall and floor tiles, through to specialist mosaic tiles, there really is something for everyone.
Don't forget that you can also find beautiful natural stone tiles at the Stone Gallery, also part of the Art of Living triangle. And if you're revamping your bathroom, calling in to Park Street Interiors is a must! Mix and match your tile types, and choose your units: all within the Art of Living.