Making a Grand Entrance: the Latest Trends in Hallway Tiles
A home's entrance hall is often seen as just a place to hang coats, shrug off shoes and as an anteroom into all of the spaces leading from it, where the main living takes place. It's easy, therefore, to neglect the entrance hall into your home, but this shouldn't be the case; a hallway should be seen as a welcoming space, into which visitors can be readily greeted and which will set the tone for the rest of your home.
Striking floor tiles can be just the way to give your porch or hallway the wow factor, as well as giving any visitors an instantly warm welcome.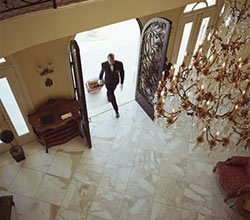 Striking designs and contemporary finishes with traditional twists
Smart hallway tiles really do give a home an arresting first impression. One of the most popular trends in hallway tiles are recreation encaustic tiles – the striking patterned tiles popular in Victorian homes.
If you're not lucky enough to find originals of these when stripping out your worn-out hall carpet, fear not, as the look can be recreated with modern ceramic tiles which have been made to look like traditionally patterned tiles, to give your home both an authentic, yet contemporary, look.
Similarly, if you want to add a country-cottage feel to your home, traditional terracotta or natural stone tiles – such as travertine and limestone tiles – often found in kitchens, are ideal for adding warmth to a hallway through their rustic colours, and create a welcoming, rural atmosphere. Although both of these looks are traditional, they are still extremely popular and relevant in modern homes, particularly where period features are still present.
Flowing tile designs
A great way of making your interior design flow is to use the same floor tiles throughout the downstairs of your home. Neutral ceramic and porcelain tiles are the best way of creating this look. If your home flows from porch to hallway to kitchen, and even dining room or conservatory after that, tiling throughout with the same tile will really create a strong theme to pull all of these rooms together.
By adding furniture in accent and contrasting shades, you can create a visually striking effect from the minute you walk in the door.
Practical natural stone
Natural stone floor tiles are always a practical choice. Travertine tiles have always been firm favourites, and the likes of slate tiles look just as good in a period home as they do in a modern loft apartment. Natural stone floor tiles often have a slightly rougher texture, which, once sealed correctly, ensures that they are a great choice for hallways, where wet and muddy shoes are often walked in from the street.
Spruce up your hallway with a trip to the Art of Living
If you're undertaking a hallway renovation, don't neglect the floor: with over one million in stock tiles available at the Ceramic Tile Warehouse, you'll be able to find something which is both practical and pretty to make your hallway a stunning entrance space.
If you'd like to add natural stone floor tiles to the mix, don't forget that the Stone Gallery can help and is also located within the Art of Living triangle. And for fitted furniture to set your hallway off perfectly, Park Street Interiors can help. Don't let your hallway be the downfall of your home: make a grand entrance with the Art of Living.