You may have noticed that patterned tiles, and in particular encaustic, Moorish style tiles, are everywhere at the moment. Their beautiful, exotic charm and colourful cheerfulness means they instantly add warmth, but it can be a little daunting to tile a whole area using patterned tiles.
That's where a trip to a tile warehouse comes into its own. With a huge variety of tiles in stock, and friendly staff on hand to help, you'll be steered in the right direction to getting this look right. In the meantime, here are some great ways to use patterned tiles: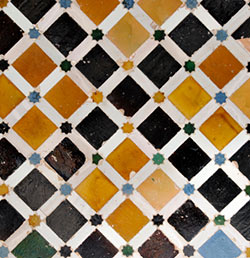 Complement your colour scheme
Spanish and Moroccan style tiles usually offer very bold patterns and can really highlight a space. However, this does mean that they can feel like a exceptionally brave move. A way of incorporating these tiles in your overall design, but without swamping a small space, is to pick a colour which will blend, rather than contrast, with the rest of your scheme.
Today's modern encaustic tiles, available from the Ceramic Tile Warehouse, Camberley, are designed to look like their vintage counterparts, but their contemporary nature means that they are available in a variety of colours – so if you want to pick a neutral shade with a monochrome design overlaid, you can.
Feature walls
Using patterned tiles to highlight a small space is a great way of incorporating patterned tiles into your scheme and to brighten up an otherwise neutral or plain area. A kitchen splash back is an excellent place to use Moorish tiles, and gives a real Mediterranean feel to a kitchen.
A very unusual way of using patterned tiles is to mix and match: it's not for the faint hearted, but using a range of Moorish tiles, with hand painted tiles, and even small squares of mosaics and plain tiles all together in one space can create a homely, eclectic look.
Shapes and patterns
As well as Moorish tiles, there are plenty of other patterned tiles available, if Mediterranean isn't quite your style. For something more traditional, opt for Victorian style mosaics in hallways, or tiles hand painted with country-cottage style designs for a rustic kitchen.
Here at the Ceramic Tile Warehouse, we also stock the Original Style range of tiles; from the Original Style Artworks Collection, inspired by art and architecture from the Renaissance, Regency and Victorian eras, through to the Original Style La Belle Collection, a beautiful range of hand painted tiles, these collections offer a hint of pattern and uniqueness without being too bold or brash.
Heart set on patterned tiles? Visit the Ceramic Tile Warehouse, Camberley!
If you've got an appetite for Moorish tiles, or patterned tiles in general, then a visit to the Ceramic Tile Warehouse, Surrey, will help you to pick a style to suit your needs.
With over one million in-stock tiles at any time, and being part of the Art of Living interior design group, you'll be able to find the type of tiles you're after. If you would like to mix and match with natural stone tiles, you'll find complementary products at the Stone Gallery, also part of the Art of Living triangle. And if you are adding Mediterranean tiles to a new kitchen, why not visit Park Street Interiors for a superb range of fixtures and fittings?
And if, after your visit to the Ceramic Tile Warehouse, you're really not brave enough for full blown patterned tiles, why not place just one tile of your favourite design on display on a shelf for a modern take on this look?