Best Practices for Wet Room Tile Installation
The practicalities of a wet room are such that they are becoming popular installations in any home. As a trusted tradesperson, you may find yourself being asked to install a wet room, either as an en suite or perhaps as one of your client's main bathrooms. But when it comes to tiling a wet room, there are certain important aspects to be aware of, and best practices to follow.
Here's a low down on things to consider when tiling a wet room, and if you need any further advice, don't forget that tile warehouse advisers will be happy to help: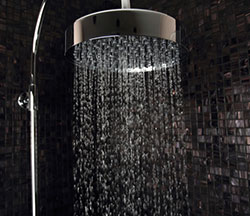 Wet Room Waterproofing
A wet room is by its very definition a room which needs to be waterproof. Tiles are a great option for keeping a room watertight, but there are certain things you need to bear in mind to stop water ingress.
Although tiles are an ideal waterproofing substance, measures should be taken in advance to stop any water seeping through the tile grout. You'll find that waterproof tile grout is available, and indeed, we stock suitable products here at the Ceramic Tile Warehouse, but grout alone won't entirely stop water from getting through to the floor underneath.
Wet room walls should therefore have suitable backer-boards applied, or for walls that have already been plastered, a tile tanking product should be applied to waterproof them. Wet room floors should either be concreted or over-boarded with a suitable type of underlay before tiles are applied.
Underfloor Heating
When installing underfloor heating underneath tiles in your clients' wet rooms, it's important to check what type of system will work best with their chosen wet room system, taking into consideration the floor type and wet room former (also known as the wet room shower tray).
If your clients aren't sure whether they should install underfloor heating, you can be confident when advising them that it's a great choice for that luxurious feel, and as wet rooms are usually tiled from top to bottom they can sometimes feel cold without underfloor heating to keep the tiles cosy underfoot. For more advice on underfloor heating, our advisers at the Ceramic Tile Warehouse, Camberley, will be happy to help.
Tile Choices for Wet Rooms
Tiles are where your clients' personalities will shine through when it comes to their wet rooms, but it's important they choose tiles that are slip resistant and suitable for a room where water is such a prominent feature.
Here at the Ceramic Tile Warehouse, Surrey, we stock over one million tiles at any given point, and of those there are plenty which carry a suitable slip resistance rating to ensure safety best practices are followed.
Mosaic tiles are an ideal choice as they allow easy coverage of the drain slopes required in the shower area. Alternatively you can use non-porous bathroom tiles such as ceramic or porcelain tiles. When it comes to natural stone, travertine is an excellent choice.
More wet room questions? Ask the Ceramic Tile Warehouse!
If you still need further advice on creating the perfect wet room for your clients, pay a visit to the Ceramic Tile Warehouse, Camberley. Our friendly advisers will be happy to help, and if you need natural stone tiles, don't forget that the Stone Gallery is also located in the same business park, and is part of the Art of Living triangle, as is Park Street Interiors, who can help with your wet room fixtures and fittings.
Make sure your wet room tiling is top notch: the Ceramic Tile Warehouse can help you follow best practice.