Natural wood floors are extremely popular at the moment. Their warm tones and stylish finish are just what the modern homeowner desires. However, there is an alternative which may be of interest to your clients: wood effect porcelain and ceramic tiles.
There are tiles available which imitate hardwood flooring. For the home, and also for commercial properties, the benefits of such tiles may well outweigh the benefits of natural wood. Furthermore, your local tile warehouse will stock all types of imitation wood tile, so you can offer your clients the best.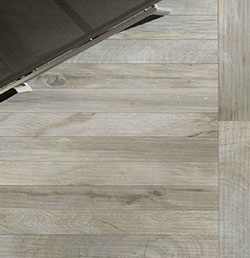 The benefits of imitation wood tiles
Wood effect tiles are an excellent alternative to offer on any project, from family homes to commercial properties. Here at the Ceramic Tile Warehouse, Camberley, we're a big fan, as they can be more durable than natural wood flooring: no more chipping or scratches caused by high heels, for example, making them the perfect flooring for office spaces.
Wood effect tiles are also easy to clean and maintain, and can be used with underfloor heating to create a cosy radiant heat. It is also a more cost effective option than natural wood, especially as tiles can usually be found in varying lengths and widths. For anyone worried about noise insulation, cork underlay, stocked at any good tile warehouse, can counteract this problem.
How to use wood effect tiles
Imitation wood porcelain and ceramic tiles recreate all of the grains and notches found in real wood. They can either be laid in very close proximity with a matching grout in between to give the look of a real hardwood floor, or grout can be used to a greater effect to create a distinctive style.
Don't forget that you might want to create a wooden floor inlaid with natural stone, such as travertine, for a stylish overall effect. If you're not sure how best to produce this look, why not pop along to the Ceramic Tile Warehouse, Surrey, for some helpful guidance?
Edimax Wood_Ker: available at the Ceramic Tile Warehouse
The Ceramic Tile Warehouse is a proud stockist of the Edimax Wood_Ker range, a beautiful wood effect tile in four shades: brown, cream, nut and grey. For clients looking to create a seamless look, don't forget you can recommend these tiles for kitchens, bathrooms, living rooms, hallways and exterior use.
If you're looking to team the wood effect tiles with other aspects, such as natural stone tiles and fitted kitchens or bathroom units, our colleagues within the Art of Living group, at the Stone Gallery and Park Street Interiors, will be happy to help.
Be confident in offering wood effect tiles to your clients, the benefits of which will be clear upon a visit to the Ceramic Tile Warehouse.