Often the choice between matt and gloss tiles is simply a matter of taste. But, as with all projects involving wall and floor tiles, you need to make an informed choice before plumping for one or the other.
There are advantages and disadvantages to both matt and gloss tiles – not to mention the fact that the overall looks created can be completely different – so it's important to choose carefully.
Why Choose Matt Tiles?
Matt tiles are an obvious choice for anyone creating a traditional or rustic look within their home. They are easily combined with natural stone, by using a travertine mosaic border, for example, which can add a touch of luxury to porcelain or ceramic tiles. Matt tiles are also the ideal choice for floor tiles, as they have better traction.
Outdoor areas should be paved with matt tiles due to their durability and slip resistance. They can stand up to weathering, with terracotta and porcelain tiles popular choices at the moment. Natural stone is also still extremely fashionable, with the likes of travertine and limestone tiles often coming in a matt finish to give a warm, homely look.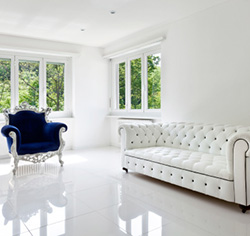 Why Choose Gloss Tiles?
Glossy tiles are ideal for use in smaller rooms, as their beautiful silken finish will bounce light around the room. Their slippery nature makes them ideal for use on bathroom walls, or as kitchen splash backs, as they are wipe-clean; this does, of course, mean that they're not suitable as floor tiles in high-traffic areas.
Gloss tiles are also great for use around fireplaces, and often imitation encaustic porcelain and ceramic tiles are available to give an authentic feel. Their easy-to-clean nature means that it is effortless to clean away soot and to keep them looking their best.
Gloss or Matt Tiles? We'll Help you Decide at the Ceramic Tile Warehouse!
There are benefits to both types of tile, but ultimately, the decision is a personal choice. For example, the somewhat iconic metro tiles look great in kitchens, but wouldn't look so good in a matt finish, and so you do have to consider which room the tiles are being used in and the overall look you're trying to create.
If you're still not sure, a visit to our tile warehouse can help you make your choice: with every type of tile imaginable available including travertine, limestone, ceramic and porcelain tiles, there's a huge range of both gloss and matt tiles to suit every project.
Don't forget that you can match your choice with natural stone tiles from the Stone Gallery, and interior fixtures and fittings from Park Street Interiors, all within the Art of Living triangle. So fear not if you're still undecided: matt or gloss, we'll find the perfect tile for you!