Commercial flooring of any type needs to combine durability, practicality and cost-efficiency, whilst maintaining a visual appeal. For this reason, floor tiles are a great choice for commercial buildings.
Often used in reception areas, floor tiles are not only easy to maintain, but the wide choice of patterns and colours can give companies a way of making a bold welcome to any visitor.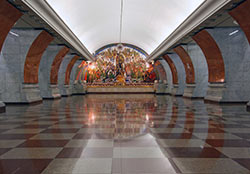 Things to think about
Floor tiles suitable for commercial properties need to have a blend of safe functionality, mixed with attractiveness.
Commercial floor tiles must adhere to HSE anti-slip guidelines, so when choosing the tiles there are certain aspects that need consideration. Anti slip floor tiles are a necessity to prevent injuries that are caused by slips, trips and falls.
As well as making sure the tiles are legally compliant, think about the footfall, as it is going to be lot higher that if you had a job laying floor tiles in a residential property. Therefore, commercial floor tiles need to be extremely durable.
Benefits of using floor tiles
Whether you choose ceramic tiles, porcelain tiles, or natural stone for your job, floor tiles are one of the easiest types of flooring to keep clean, as the stain or liquid will sit on the top of the tile making it easy to wipe away. The tiles are also extremely resilient to heavy duty cleaners, so difficult stains can be removed very easily.
Using floor tiles, as opposed to carpet tiles for example, will have a bigger initial cost outlay, but the longevity that you will have with ceramic floor tiles will far out way carpet.
Using carpet tiles as an example again, ceramic tiles do not tend to attract dust and pollen making them an excellent choice to keep the air free of materials that can cause discomfort to allergy suffers.
Finally, due to the vast array of floor tiles available, you do have the option of creating an extremely eye catching pattern that you wouldn't be able to achieve with other flooring options.
Add luxury to a building with floor tiles
If your client wants flooring that will impress, you can't go wrong with floor tiles to give a commercial building a touch of luxury. As well as being a trend that never goes away, high gloss tiles will add glamour to any office reception or bathroom area.
As quite often the space that needs tiling in a commercial building is a lot bigger than in a home, there is the opportunity to use extra large floor tiles to really give the area a luxurious feel.
Ceramic Tile Warehouse can help with commercial floor tiles
If you have taken on a job to tile a commercial building, the Ceramic Tile Warehouse can help. With over one million tiles in stock, our expert staff will point you in the right direction.
Ceramic Tile Warehouse is part of the Art of Living Group that also includes Park Street Interiors, which can help with kitchens and bathrooms for business premises and the Stone Gallery, which has a wide range of natural stone, also suitable for commercial properties.