So, you've worked your way through the vast array of different flooring options that are available nowadays and decided that floor tiles are the perfect choice for your kitchen.
But what now? With a new list of options opened up to you now that you have chosen your material, here are few tips to get you started.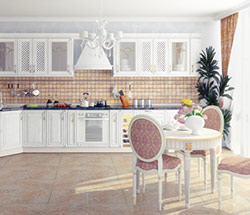 Why use floor tiles in the first place?
With the growing fashion to have the kitchen as a 'family room' it is fast becoming the most frequently used room in any home. Therefore, it is important to have a flooring that is going to be extremely durable, and tiles undoubtedly fit this.
Hygiene is also another important aspect to consider and something that floor tiles can certainly offer, as they are extremely easy to look after and clean. There are also grouts that have antibacterial additives available now ensuring that every part of your floor is fully hygienic.
Different shapes and sizes
It may sound obvious, but it is worth mentioning, the size of floor tiles that you choose does depend on the size of your kitchen.
If you have a very small kitchen the pattern created by bigger floor tiles will get lost, so select a smaller tile. For larger kitchen areas, you can get away with pretty much any size, but if you want to give the illusion of extra space, choose larger tiles so that the floor does not look too busy.
Best floor tiles for the job
Of course colour and style is a personal choice, but to get the cosy feel of a country kitchen, you can't go wrong with the traditional and rustic look of terracotta floor tiles. Whereas the styles and colour options that you get for ceramic tiles are endless and can give a contemporary feel to many kitchens.
Porcelain tiles are also another option and have become one of the most popular tiles to choose for kitchen floors. The tiles are rated on a scale of hardness, so when looking at porcelain floor tiles for the kitchen, the higher the rating the stronger the tile will be. This means that your tile will last longer and cope better with the high footfall.
Is there anything that I should avoid?
Although ceramic floor tiles can be used on walls, the same can't be said for using wall tiles on the floor. Floor tiles are generally thicker, which will prevent cracking and ensure that they last longer, so when purchasing floor tiles make sure they are suitable for the floor.
It has become fashionable over the last couple of years to use tiles on the floor that have a high gloss finish. Whilst they look great and are very suitable for other rooms in the home, to avoid slips and falls when the floor tiles become wet, they are a big no no for the kitchen.
If in doubt, let the Ceramic Tile Warehouse help
With over one million tiles in stock at our tile warehouse, we are confident that we will be able to find the most suitable floor tiles for your kitchen, which you will be able to take home that day. Our friendly team will be able to help and offer you advice, contact us here.
Also, don't forget that our colleagues at Park Street Interiors and Stone Gallery are part of The Art of Living group, and will be able to help you with inspirational interiors.