When talking about tiles, people often mention ceramic and porcelain tiles as one and the same, but in truth, there are quite a few differences between the two. However, do these differences justify the higher price paid for the porcelain variety?
It is true that ceramic and porcelain tiles are close cousins, both forming part of the ceramic family, but porcelain tiles have different qualities that set them apart. Before making a decision about whether to go down the ceramic or porcelain route, look at our guide to help you decide what is best for your project.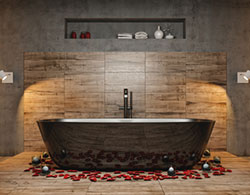 Interior or exterior use
Whilst both tiles are highly suitable for use indoors on walls and floors, historically neither ceramic or porcelain tiles have been suitable for exterior use, as they can crack as temperatures drop.
However, advances in technology have meant that you are now able to purchase porcelain tiles that are suitable for exterior use. The tile will need to be unglazed, so double check before your buy them and ask your local tile warehouse whether they can be used outside.
Porcelain tiles win the durability test
Porcelain tiles are more dense than their ceramic counterparts, making them more durable and better suited for areas that have heavy usage and high footfall.
Ceramic tiles have a glaze on the top, so if you were to chip them, then you would see a different colour, whereas with porcelain tiles the colour runs throughout the tile, so the chip is difficult to notice.
Ceramic tiles are easier to cut
Due to ceramic tiles being less dense than porcelain tiles, they are easier to cut, so are a better option for projects that involve tiling odd shapes and angles.
Although porcelain tiles can be cut, this does require special tools and expertise, so we would recommend that this is done by someone who has a lot of experience.
What about cost?
Whilst we wouldn't recommend basing your decision solely on the cost of the tiles, as other factors that have been mentioned above must be taken into consideration, porcelain tiles are the more expensive option. However, you will find fantastic offers on both ceramic and porcelain tiles at your local tile warehouse, so both are worth investigating.
Ceramic or porcelain tiles? Let the Ceramic Tile Warehouse help you decide
If you want more advice on what tiles to choose for your project, a visit to the Ceramic Tile Warehouse could help. With over one million tiles in stock, from all over the world, we have an array of ceramic and porcelain tiles to suit every taste and budget.
Don't forget that you can also get everything else you require from The Art of Living Group. Located within the same triangle, the Stone Gallery will be able to help with any natural stone needs, for both interiors and exteriors, and Park Street Interiors is available to help you choose and fit bathrooms, kitchens and bedrooms.