Tiling is one of those jobs that looks very easy when watching the experts do it, but when you come to do it yourself you get lost in the plethora of options, which include ceramic tiles, porcelain, glass and mosaic tiles, to name a few. Then there is the measuring to ensure you purchase the right amount of tiles, the different choices and styles and the different sizes.
By following our top tips, you'll be able to work out exactly what tiles you need, and how many, to help you achieve a professional finish.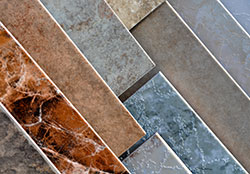 Measure your room
Before you even decide on ceramic tiles or porcelain tiles, or anything in between, measure the area that you want to tile.
Tiles are generally sold in metres squared, so measure the length of the area, then the width and multiply together to get your total area. We would recommend adding on 10% to the total to compensate for any error, as you may need to cut some of the tiles.
Options, options, options
Now decide on what tiles you would like to purchase for your project. As mentioned previously, there are many options, including ceramic tiles, glass tiles, mosaic tiles, natural stone and many more.
Although look and style are important factors to consider, buying tiles is an investment, as tiling is something that is not easily changed, so choosing the most expensive option for your budget is a good option.
As there are so many tile designs available, you do have the option of going bold with coloured ceramic tiles to make a real statement in a kitchen, or going very neutral with natural stone to give off a calm and tranquil feel in a bathroom.
Check suitability of your ceramic tiles
You've decided on ceramic tiles, but are they suitable for your project? Check the tiles' PEI rating, which gives you advice on how suitable the tile is for the intended area.
For example, ceramic floor tiles are strong enough for use on the floor but we would not recommend them for outdoor projects, instead you maybe better choosing porcelain tiles for this kind of project.
Buying your tiles
If you have measured the room correctly, then buying your ceramic tiles will be relatively easy, just look for the metre square coverage information. If you do get a little stuck, don't be afraid to ask for advice from the staff at your local tile warehouse, after all they are the experts!
Get advice from Ceramic Tile Warehouse
To ensure that you get the right tiles for the right room, speak to the team at the Ceramic Tile Warehouse. With over one million tiles in stock, they will be able to help you choose the right ceramic tiles and work out how many you need.
If you think the tiling job is a little beyond your DIY capabilities, the Ceramic Tile Warehouse will also be able to point you in the direction of a professional who can do the job for you.
Whether you are looking for tiles for a kitchen, bathroom or a floor, our Art of Living Group sister companies, Park Street Interiors and Stone Gallery can help you add touches of inspiration to your room.