Like fish and chips, cricket and the Queen, Victorian floor tiles are one of those things that are quintessentially British and have become a feature that people who want 'character' in a home look out for.
However, just because your house was built in 1960, instead of 1860, does not mean that you can't add a bit of Victorian character to your home. Modern production methods have combined with traditional materials to give you the option of installing a time-honoured Victorian pattern into your property.
Whether being used outside or in, Victorian floor tiles certainly give a building kerb appeal and, in some cases, can add value to your property.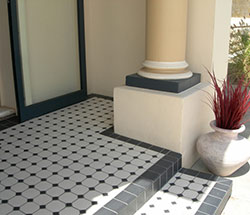 History of Victorian floor tiles
The beautiful patterns that we are familiar with today originally began to be seen in churches around the 1850s and, although it is not definitely known where the design came from, around the same time the Victorians were being influenced by Eastern Oriental architecture.
Shortly after, the rich and famous began installing floor tiles in their home as a status symbol. At the end of the 1800s, as the tiles began to be mass-produced and more affordable, the middle classes started to use them in a bid to copy those in a higher social class.
What characteristics do Victorian floor tiles have?
Floor tiles that were laid in the Victorian era were defined by their geometric and complex patterns, and although they were the norm in the 1800s, today they can add a real wow factor to any property.
The combinations are endless and can give a homeowner the opportunity to stick to a traditional Blenheim, Chatsworth or Cambridge design, or, alternatively create a completely unique pathway or hallway.
Today's Victorian floor tiles
There are a number of companies that supply and fit Victorian floor tiles that can come in many different formats, from traditional individual tiles, like those available through Original Style at Ceramic Tile Warehouse, to those fitted in a sheet format, which can ease the installation.
However, as the beauty of Victorian floor tiles lies in the geometric pattern, laying the tiles is perhaps not a job for the home DIYer; we would suggest calling in a professional to do the job to ensure that they remain in situ for many years to come.
Easy maintenance
Like many other floor tiles, installing a Victorian design gives you a flooring surface that is extremely easy to maintain. Once the tiles are laid, the grout set and the tiles sealed, your new floor will just need a regular sweep and the occasional wash with a household solution.
Visit the Ceramic Tile Warehouse for help with Victorian tiles
At the Ceramic Tile Warehouse, we have Victorian floor tiles on display and our tile experts will be able to help you plan your design and give advice on installation.
As part of the Art of Living interior group, which incorporates Park Street Interiors and the Stone Gallery, inspirational ideas to complement your new floor tiles are not that far away.