When it comes to choosing wall and floor tiles for your home it's a good idea to select something that is stylish whilst also being practical for the relevant space, or zone, within the home.
Wall and floor tiles are a significant feature in kitchens and bathrooms, as well as an option for floors in the living room, hallway and beyond. And since floor tiles are also an investment – they're not something you're likely to replace on a frequent basis – it is essential that you choose a product which is aesthetically enduring and future-proof.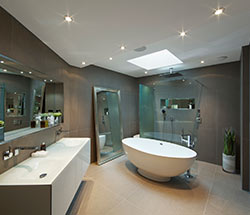 What characterises the Scandinavian interior style?
Renowned for its combination of simplicity, utility and beauty, the Nordic or Scandinavian style has become a really popular interior look of late and its appeal shows no signs of waning.
Key elements of the Scandi-style are clean architectural lines, flawless craftsmanship, and understated elegance in a palette of neutral muted colours. Pared-back and functional, a typical Scandi interior is characterised by an airy and light atmosphere with subtle tactile interest, minimal fuss and ornamentation.
Nordic chic: where floor tiles come into their own
Wall-to-wall carpets do not feature within Scandinavian interiors; the modern Nordic preference is for light-coloured wooden floors or surfaces which utilise floor tiles in neutral or subdued tones, warmed and accessorised by a textured rug or sheepskin.
Although we have a vast range of wall and floor tiles in stock at our Surrey showroom we have selected a few of our best-sellers which especially complement the Scandi-interior style.
Wood-effect porcelain floor tiles
A popular and modern alternative to timber floors, our wood-effect porcelain floor tiles are suitable for use in kitchens, hallways, bathrooms and living rooms. Available in cool tones of light limed-effect cream and pale grey, these floor tiles imitate the natural grain and character of real wood flooring whilst offering the durability and easy maintenance of a porcelain product, making them the ideal choice for a Scandi-inspired room.
Shades of grey floor tiles
Scandi interiors are typified by their use of grey tones – from pale dove to deepest slate. Cool and contemporary large format porcelain floor tiles, such as our sophisticated Maison (in Dark Grey) or matt Alabama (in Arena or Gris), are guaranteed to deliver the right ambiance.
Wall tiles for a romantic Scandi interior
Our rectangular Rustico Craquele tiles – in a soft light grey palette with distressed edges and pearlised crackle glaze – would make a superb addition to a Nordic décor scheme in a kitchen or bathroom setting.
What else do you need for Scandi-chic?
Besides selecting the right floor tiles, you can achieve a Nordic flavour in your home by following these simple tips:
Keep walls fresh and simple with white paint to maximise light
Combine form with function when it comes to storage solutions
Incorporate soft muted or neutral textiles
Blend industrial/functional pieces with carefully selected decorative retro and modern items – this style embraces the eclectic!
Minimise trinkets and fussy decorative items
Add texture with natural materials: from pale wood to stone, sheepskin and distressed leather
Wall or floor tiles for any style, project and budget
With over one million tiles in stock at our Camberley showroom, we have a comprehensive range of ceramic, porcelain and limestone wall and floor tiles, which have been sourced from premium manufacturers across Europe and America.
At Ceramic Tile Warehouse we are pleased supply to wall and floor tiles to both trade and private customers – call us on 01276 678 845 or visit our showroom in Camberley, Surrey.