Whilst natural stone floors are consistently popular, the trend for convincing stone-effect porcelain tiles has really taken off in recent years, for both residential and commercial projects. From rustic to contemporary, at Ceramic Tile Warehouse we hold a large stock of stone-effect porcelain tiles for any decorative style.
Here, we explore the many benefits of porcelain tiles – which mimic the character and beauty of a stone floor – over their natural stone counterparts; we'll also provide details of some of our most popular stone-effect products.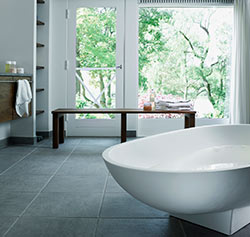 The practical benefits of stone-effect porcelain tiles
The hardness and density of porcelain tiles make them durable and hard-wearing: ideal for use in areas of high traffic. Porcelain tiles are also resistant to stains, chips and scratches, meaning that they'll stay looking good for years to come. Porcelain tiles also offer ease of maintenance and are very easy to clean.
Porcelain tiles are efficient heat conductors and are effective when paired with underfloor heating systems, meaning that they are cool under foot in summer and warm and cosy in winter – useful in bathrooms, kitchens, living areas and conservatories.
Our Caspian Bone or Gold Stone series stone-effect porcelain tiles
Our popular Caspian Bone and Gold Stone porcelain tiles are a faithful replica of lightly tumbled travertine stone, digitally printed with a subtle design to mimic the appearance of natural stone to enhance any interior scheme.
Rustic Baltic Gris or Natural porcelain tiles
Inject subtle rustic character into the home with our large format flagstone-effect porcelain tiles. Baltic, in Gris (grey/beige) or Natural (stone), is available in four different sizes and either square or rectangle formats, which can be combined or used individually for a more uniform effect.
Multicolour Slate porcelain tiles
Our Multicolour Slate porcelain tiles are digitally designed to give the distinctive look of slate but with the performance and low maintenance benefits of porcelain tiles.
Porcelain tiles: to transition between indoors or outdoors
In the past, porcelain tiles could not be used in settings where temperatures dropped too low, as they were prone to cracking and deteriorating. However, advances in manufacturing techniques mean that porcelain tiles are now frost-proof and resilient – since they are also non-porous, fade-proof and require minimal maintenance, they are ideal for use outdoors. External grade stone-effect porcelain tiles can be used to seamlessly connect indoor and outdoor spaces – for example, flowing from a living room or kitchen and out onto a patio entertaining area.
Ceramic and porcelain tiles for any project
We have over one million tiles in stock at our Camberley showroom, so when it comes to selecting the perfect product for your wall or floor, we're confident that you'll find just the right option from our comprehensive range of ceramic, limestone and porcelain tiles.
At Ceramic Tile Warehouse we are pleased supply to ceramic and porcelain tiles – sourced from a select group of premium manufacturers from across Europe and the Americas – to both trade and private customers. Visit our Camberley showroom or call us on 01276 678 to speak to a member of the Ceramic Tile Warehouse team.