While marble-effect floor tiles can create a spa bathroom feel and floor tiles with pastel hues help achieve a vintage Parisian theme, the right choice of coloured and textured floor tiles can help transform your bathroom into a chic, industrial-style room to be proud of.
Key elements of an industrial-look bathroom include exposed piping, reclaimed metal storage units, a copper, free-standing bath tub and large expanses of stone or brick walls.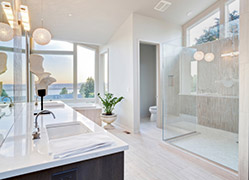 Achieve the look with floor tiles
If your property lacks the right natural elements for the look, just imitate it! Modern and well-made wall and floor tiles with metallic or concrete finishes create an authentic look, which could be straight out of the pages of an interior magazine.
Colours to look out for when choosing wall and floor tiles are mainly shades of grey and brown; earthy shades reminiscent of the classic urban warehouse-style apartment from which this look originates.
Recommended floor tiles for industrial bathroom chic
We offer a large choice of floor tiles suitable for bathroom use, and can advise you on the textures and colours to opt for when the industrial bathroom look is what you're aiming for. Take the Cosmo Oxido floor tiles, for example. With its matt effect, these earthy brown porcelain floor tiles instantly add a splash of industrial masculinity and practicality to your bathroom.
Consider wood-effect floor tiles for your industrial bathroom style
The distressed metals and exposed copper piping of an industrial bathroom can be warmed up beautifully with the introduction of bathroom floor tiles, made of porcelain not natural wood to ensure practicality. The grains and knots in our range of wood-effect floor tiles truly imitate natural wood whilst offering the durability and low maintenance benefits of glazed porcelain. Available in a range of four subtle wood effect colours, brown, cream, nut and grey, these are floor tiles which lend themselves very well to the industrial bathroom look.
Charcoal-coloured floor tiles for your warehouse-themed bathroom
Large format charcoal-coloured floor tiles can really set the tone for industrial bathroom chic. Mimicking the look of old reclaimed steel with their metallic finish and stripped-down look, slate grey floor tiles – and even matching wall tiles if you're brave enough to go all the way – can create a stunning scene. Take a look at our Nimbus Acero floor tiles range for a ceramic tile which is perfect for modern bathrooms and en suites.
Accessorising your industrial style floor tiles
Once your industrial-esque floor tiles are in place, add in some rustic wood furniture, distressed metal storage units and cast iron accents to complete your bathroom theme. If you want to add a splash of colour to brighten the room, a good way to do this is by choosing bold towels – a bright orange or a scarlet red add a glorious pop of colour.
Don't hide the plumbing – let it show loud and proud! And finally, simple, industrial style lighting and a shiny, galvanised bath tub are all you need to add the finishing touches to your floor tiles for an industrial-looking bathroom, which could be straight out of a downtown Brooklyn apartment block.
Call into our Camberley warehouse for an extensive range of ceramic, porcelain and mosaic wall and floor tiles, or call our team of tile experts on 01276 678 845.