As open-plan living becomes more and more widespread, it has become increasingly important to think about how our flooring will need to work for different zones within the home. Floor tiles are a great option for open-plan layouts, as they are versatile enough to work within different rooms and yet help design to flow throughout.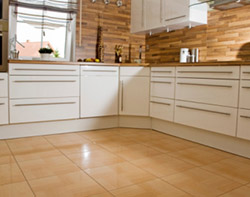 Creating flow
It can be difficult when combining rooms to get them to work together. This is where floor tiles come into their own: using ceramic or porcelain tiles within the kitchen, dining and living room areas when open plan will mean that the space flows and a continuity is created.
If you've got an older style property, limestone tiles create a lovely, rustically natural feel and look great flowing from the hallway of a house into an open plan kitchen-diner.
Creating zones
As well as creating flow, floor tiles can create zones within open-plan living spaces. For example, using limestone tiles within the kitchen can work particularly well if your open-plan design means that you step down into a living or dining area; within this lower area, a different type of floor tile, such as ceramic tiles, can be used to separate the kitchen and living areas whilst still keeping the natural continuance throughout the rooms.
Creating practicalities
Floor tiles offer a practical solution for open-plan designs: underfloor heating. Rather than trying to incorporate bulky and space-eating radiators into an open-plan design, why not consider using underfloor heating beneath floor tiles? After all, the main idea of open-plan living is to create a space where the whole family will want to spend time together; for example, whilst meal preparation is taking place in the kitchen, the children can be playing in the adjacent family room, and by laying underfloor heating, the room will be toasty-warm and inviting to everyone.
The Art of Living and the Ceramic Tile Warehouse: creating possibilities for open-plan living
If you're looking to bring a little more cohesion, zoning or heating practicality into your open-plan living design, floor tiles from the Ceramic Tile Warehouse, Surrey, are a great way of doing so. The experts on hand will help you pick porcelain, limestone and ceramic floor tiles which are practical for all rooms in the open-plan zone, and will also be able to advise on underfloor heating – and with more than one million tiles in stock, you'll have plenty of choice. What's more, the Stone Gallery and Park Street Interiors are also on hand within the Art of Living triangle to help create the open-plan look, with beautiful natural stone and stylish kitchens perfect for open-plan living.