Millions of Ways with Mosaics:
Modern design techniques using Mosaic Tiles
Mosaic tiles are extremely popular at the moment, and with good reason. Although they lend a striking purity to an all-over straightforward wetroom or bathroom design, they don't need to be restricted to just this. Mosaics can be incorporated into many schemes and are an excellent way of creating a unique finish.
Transforming awkward spaces
Our houses often have spaces where traditional tiles just won't go. That alcove in the kitchen; the shower recess in the bathroom. Mosaic tiles are incredibly versatile and will fit almost anywhere. Rather than shy away from awkward spaces, why not make a feature of them? Pick a mosaic tile in a contrasting colour to the rest of the room and run with it.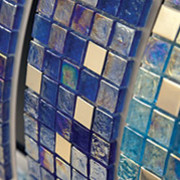 Add a splash of colour
If you like a neutral palate with just a hint of colour, mosaic tiles are an excellent way of achieving this look. For example, a monochrome colour scheme looks great with a bright pop of red within it, or plain white bathrooms can be enhanced with an elegant teal or green. To really bring this look to life, go to town with glass or glittering mosaics; a mosaic tile which you may feel would overpower a room when used over a large area will work really well in small amounts – for example, as a strip of colour behind a free-standing bathtub.
Framing focal points
Living rooms have fireplaces as focal points; bedrooms are usually focussed on the bed area, so why should bathrooms and kitchens miss out? Mosaic tiles can be used to frame mirrors, or point the eye towards certain features, for example, by running a strip of mosaics down either side of the focal point. This technique can also act as a feature panel, for example, by running a narrow band of mosaic tiles behind the shower controls within a wet room, helping to create a spa-like feel.
Zoning functional spaces
To create a practical design, use a mosaic tile to section off certain areas of a room – for example, a kitchen could be tiled in oversized, simple tiles throughout the majority of the room, but mosaic tiles can create a stylish splash-back behind the hob, or zone the area behind the main worktop. A similar effect can be achieved by tiling the area behind the bath or shower in a bathroom with mosaics with the oversized tiles elsewhere; this idea of marrying large and small really achieves an eye catching effect, but also creates practical areas of use.
The Ceramic Tile Warehouse: offering every mosaic tile to fulfil your heart's desire
For an array of mosaic tiles to suit every taste, pay a visit to the Ceramic Tile Warehouse. With over a million tiles in stock, from Spain, Italy and the world over, there will be a mosaic tile to suit everyone. Don't forget that you can also get everything else you require from The Art of Living: located within the same triangle, the Stone Gallery will be able to help with any natural stone needs, for both interiors and exteriors, and Park Street Interiors will be on hand to help you to choose and fit bathrooms, kitchens and bedrooms.