Recent trends in interior design have started to lean towards the natural, towards the rustic and the organic, and floor tiles are not exempt from this. Natural stone tiles are extremely popular at the moment, and most certainly beautiful, but they can be a little difficult to maintain.
If you're trying to recreate the natural stone look, but want it to be maintenance-free, high quality porcelain floor tiles such as the Edimax range are an excellent alternative. And your first stop when creating this look should be to a tile warehouse, as you'll have the whole range at your fingertips.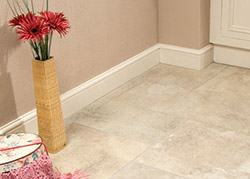 Edimax Multi-Tile Combinations for Rustic Looks
Mixed tile patterns are a great way to create that natural, rustic look which is so popular at the moment. To give it that extra edge and authenticity, make a visit to the Ceramic Tile Warehouse, Camberley: here you'll find our Edimax Oxida, Edimax Instone Golden and Edimax Basaltica and Edimax Instone Bone ranges. All of these tiles are available in three or four sizes, which means that you can combine them in different layouts to create that traditional stone flooring look, without the maintenance of natural stone.
Edimax Natural Stone Looks
The Edimax range of tiles, all in stock at the Ceramic Tile Warehouse, Surrey, are designed with the latest technologies in order to mimic natural stone.
For example, Edimax Instone Bone is a perfect replication of lightly tumbled travertine; it has those slight variations and markings found in natural stone, but is low maintenance, being a ceramic tile. Similarly, Edimax Instone Golden is produced using the latest in digital inkjet technology to replicate the natural shades and texture of travertine, and combined with its lightly chiselled edges, is a highly durable ceramic tile.
Or perhaps Edimax Slaty will be more to your taste: a digitally designed Italian tile made to look like slate, complete with its one off tile patterns. Whatever you're after, you're sure to find a ceramic tile in the Edimax range which will recreate the desired natural stone look, and all of these can be found in stock at the Ceramic Tile Warehouse.
The Art of Living: your port of call for both genuine natural stone and ceramic imitation tiles
Remember you can combine both the beauty of real natural stone with the low-maintenance beauty of the Edimax tile range. Within the Art of Living triangle you'll find both the Ceramic Tile Warehouse, where over one million tiles are in stock at any given time, including the stunning Edimax range, and The Stone Gallery, who provide beautiful, genuine natural stone tiles, as well as Park Street Interiors, for stunning bathrooms, kitchens and bedrooms.
So why not combine the hardy-yet-attractive Edimax range of floor tiles with real natural stone tiles on your walls? This way you'll find the perfect compromise between the durability needed for floors and the attraction of natural stone tiles for your walls – and by choosing the Edimax range, no one will ever be able to tell the difference!