If you like the slick, sleek, contemporary look, polished porcelain floor tiles may have caught your eye of late. Porcelain tiles have always been popular, but recently, highly polished porcelain tiles are taking centre stage. And there's a reason that they're stealing the limelight: their high sheen and modern look means that they can instantly give any property a smart, polished look.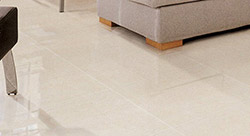 High Sheen and High Style
Polished porcelain tiles have an extremely impressive sheen to them. This highly reflective surface can help to add depth and dimension to a room. They are generally manufactured in larger sizes, so if you've got a large space to cover, not only do they look impressive, but these floor tiles will also cover a big surface with ease and will not look lost within it.
The fact that their durability easily rivals that of natural stone tiles, such as granite or limestone tiles, means that they will often be found in high traffic commercial areas, but they will look equally as good within a residential environment, too.
Jade Ivory Polished Porcelain tiles from Ceramic Tile Warehouse
One of our best selling porcelain tiles here at the Ceramic Tile Warehouse – and also one of our personal favourites – is the Jade Ivory Polished Porcelain tile.
These beautiful porcelain tiles from Oceano, one of China's premier tile manufacturers, are clean and fresh-looking in an ivory shade, instantly adding light and shimmer to any room through their neutral colour and high polish, and are manufactured in a large 600 x 600mm size.
What's more, because of these floor tiles' neutral tone, they look great with any other colour you wish to add elsewhere in the room, neither fading into the background due to their sheen, nor standing out overpoweringly from the crowd, and can either be used with a darker coloured grout to add definition, or with a matching grout to create continuity.
Whichever of these looks you choose, the stunning Jade Ivory Polished Porcelain tiles will add style to any home, so be sure to visit the Ceramic Tile Warehouse in Camberley for these and thousands of in-stock mosaic, porcelain and ceramic tiles.
Polished Porcelain Tiles & Inspirational Interior Design from The Art of Living
The Jade Ivory Polished Porcelain tiles are just one of many inspirational ideas within the Art of Living Triangle. Why not visit the Ceramic Tile Warehouse to view the impressive range of porcelain, mosaic and ceramic tiles to give you more style ideas? We stock over a million tiles at any given time, so you're sure to find something to suit your desires.
What's more, The Stone Gallery, also within the Art of Living, will be able to provide you with beautiful natural stone tiles, including granite, marble and limestone tiles, and Park Street Interiors will provide you with beautiful kitchen, bedroom and bathroom inspiration, so you won't have to go far to polish your ideas!