A fireplace is a natural focal point in any room, so it's important to get it right when decorating this eye catching feature. Tiles are a great way of revamping fireplaces and even giving a brand new look to a whole chimney breast. Visiting the Ceramic Tile Warehouse, Camberley, is an excellent start for some inspiration, but in the meantime, here are a few top ideas to wet the appetite: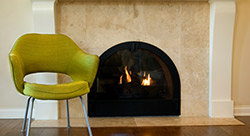 Tile fire surrounds
The most obvious way of using tiles to revamp a fireplace is to use them as a fire surround. Encaustic and patterned tiles will add a certain period charm to any fireplace, and can really help to pull the look of a room together. For example, if you're looking to restore your house to its period glory, tiles typical of that era will help to complete the look.
Alternatively, if you're attempting to create a rustic look, country-style tiles, such as those with pretty bird or insect patterns on, teamed with a wood-burning stove will emphasise the traditional feel you're trying to achieve. For durability and cost, ceramic tiles are the best options for fire surrounds, and by visiting the Ceramic Tile Warehouse, Surrey, you'll have plenty of choice within our thousands of in-stock tiles.
Tiled chimney breasts
Chimney breasts tiled in their entirety are a brave move, but can look so good when the style is pulled off. For a taste of the exotic, why not think about using beautiful blue and white artisan tiles to create a neo-Moorish look? It's courageous, but it's also an excellent modern alternative to wallpapering the chimney breast and can look stunningly striking when the rest of the room's decor is subtle. Your local tile warehouse will offer plenty of beautiful, individual tiles to choose from, ideal for suiting any colour scheme.
Modern-day cladding
The days of the horror-inducing brick-cladding of the 1960s and 1970s are fortunately behind us. However, you may be surprised to hear that modern styles of cladding are making a comeback.
Stacked-stone cladding is both popular and contemporary; small strips of stone tiles, made either of real stone, or imitation ceramic or porcelain tiles, are laid in a slightly irregular pattern to create a type of cladding with a classic, rustic look and a modern twist.
If modern-day cladding is of interest to you, check out the range of porcelain and ceramic tiles which imitate natural stone – but without the maintenance of real stone – at the Ceramic Tile Warehouse, Camberley.
Remember too, that if you would like to use real stone, The Stone Gallery, which is part of the same group of interior decor suppliers in The Art of Living triangle, will be able to help with any natural stone needs.
Focus on your fireplace at the Ceramic Tile Warehouse, Surrey
If you're ready to revamp your fireplace, there are plenty of ideas within the thousands of in-stock tiles at the Ceramic Tile Warehouse. Whether you're just after a few tiles to create a surround, or are ready to take the jump into tiling your whole chimney breast, you'll find something to suit your taste. And if you do decide that real stone is for you, the Art of Living group can help, in the shape of the Stone Gallery. All eyes will be on your fireplace once it's got the Ceramic Tile Warehouse treatment!