In a modern kitchen, you may not find the idea of a tiled worktop particularly up-to-the-minute; however, tiled kitchen countertops can add a different look to a kitchen, and there's no reason why this can't be a modern look. What's more, ceramic and porcelain tiles are strong substances which are suitable for sustaining a busy family kitchen lifestyle. So before you dismiss tiled kitchen worktops, think again about the looks that can be created.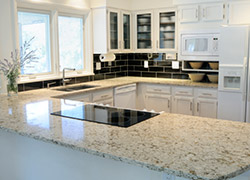 Country kitchen countertops
Using porcelain and ceramic tiles on kitchen worktops can create a warm, rustic, country-kitchen feel. Soft browns and terracottas create a warm look, and patterned tiles can be inlaid within the overall worktop – think country motifs, such as flowers, birds and bees – to add a touch of charm to a traditional kitchen. When coupled with simple shaker style units – examples of which can be found at Park Street Interiors, also part of the Art of Living group – this look really makes the kitchen the heart of the home.
Modern mosaic worktops
Mosaic ceramic and porcelain tiles are an excellent choice for the modern kitchen countertop. Not only do they add a contemporary look, they also work well with any colour scheme you may choose, as they themselves are available in myriad tones, enabling you to create tile magic on your worktops. They can also be continued onto walls and floors, to create a seamless effect.
Contemporary brick-tile countertops
Brick shaped tiles are all the rage at the moment, so why not use them on kitchen countertops to create a fashionable feel? Brick shaped porcelain and ceramic tiles work well with coloured grout, and so a vibrant colour tile can be used with a contrasting grout to match the rest of your colour scheme, or vice versa. Again, brick tiles can be used on walls, too, to create a modern splash back against the countertop.
Natural stone worktops
Natural stone has been used for kitchen countertops for many years. Natural stone is an extremely strong substance, and is therefore great for a busy kitchen, but remember that some stone is better than others; for example, limestone tiles would be more prone to staining than other types of stone, even once sealed.
Modern grout to complete modern countertops
Remember that to make your kitchen worktop as hygienic as possible, it's always best to use a specialist grout, which will have added antibacterial properties. All good tile stockists, such as Topps Tiles and, indeed, the Ceramic Tile Warehouse, will stock such a grout to ensure that together with the wipe-clean nature of tiles, your kitchen is at its most hygienic.
Tiles to complete any kitchen worktop, available in the Art of Living
For inspirational tiles to style any kitchen countertop, pay a visit to the Ceramic Tile Warehouse: we have over one million tiles in stock, so you're bound to find a tile to complete the look you're trying to create. What's more, kitchen units can be purchased from Park Street Interiors, and natural stone tiles can be found at The Stone Gallery, both of which can also be found within the Art of Living triangle, located in the Sampson Business Park. You'll soon discover that tiled kitchen worktops needn't be old fashioned – not when there are over one million tiles to choose from at the Ceramic Tile Warehouse!