In this day and age there has been a drive towards character homes and eco-friendly interior design trends. As a reputable and respected tradesperson, it's important to be able to tell your clients about the origins of their tiles, both to allow customers to decide for themselves about the carbon footprint created by tiles imported from around the world, and, on a lighter note, give them an insight into the character they are bringing into their home.
The friendly staff on hand at a tile warehouse will not only help you to find the right tiles for the job, but they will also be able to inform you of your chosen tiles' origins, so that you can in turn advise your clients.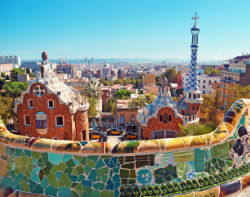 Italian Tiles
The Italians have always been associated with their sense of style, and Italian tiles are no exception. Beautiful marble, porcelain and ceramic tiles have a long history of being produced in Italy, as do Italian travertine tiles, which are quarried in the well-known tile production sites of Tivoli and Guidonia Montecelio. The Ceramic Tile Warehouse, Surrey, stocks a large range of Italian tiles, including travertine tiles and a range of porcelain tiles designed to look like natural stone from the Edimax factory, so your clients can bring a touch of Italian chic to their home.
Turkish Tiles
Turkey produces a number of tile types, including those made from marble, limestone and onyx. The country is particularly associated, however, with its travertine tiles. Travertine is highly recommended here at The Ceramic Tile Warehouse due to its aesthetic appeal and durability. It's also extremely easy to cut and shape, making life easier for any tradesperson working with this type of tile. Turkish Travertine is one of the most popular origins for travertine tiles for walls and floors, and comes in a range of shades from vibrant red to subtle cream, beige, white and even yellow.
Spanish Tiles
Spain is known for its tile work – just think of Gaudi in Barcelona – so why not pitch the idea of a beautiful Mediterranean kitchen or hallway to your client? If the job calls for beautiful encaustic patterned tiles or rustic terracotta tiles, then Spanish tiles should be your first port of call: the Ceramic Tile Warehouse, Camberley, for example, stocks a wide range of tiles from Halcon Ceramica and Metropol, allowing you to create a small piece of tile magic and add a splash of Spanish flair to the job.
Great British Tiles
A wide range of excellent tiles can also be found on our own fair shores. Porcelain tiles, and beautiful handmade clay tiles, are just examples of the types of tile that can be found within the UK; with many people keeping a close eye on their carbon footprint nowadays, if your client is eco-conscious, a move towards import-friendly British tiles, available at your local tile warehouse, may be a good choice.
The Art of Living: helping you to inform your clients about their tiles
If you've got to thinking about the origins of your tiles, and how you can help your clients make an informed choice, then a visit to The Art of Living, where both the Ceramic Tile Warehouse and the Natural Stone Gallery are located, is time well spent. Don't forget that the above examples are just a small range of tiles available; many more tiles come from the world over, including those from China, South America and the USA. With over one million in-stock tiles, The Ceramic Tile Warehouse, Camberley, will be able to help you choose the right type of tile for your client in an instant.